Welcome to the Antique Cash Register Collector website!!
I have been actively collecting fancy brass and inlayed wooden cash registers since the late 1980s. I purchased my first machine when I was 13 years old and have been addicted ever since.
Please contact me if you are looking to sell an Antique Cash Register or any memorabilia related to National or any other cash register company. I also collect vintage store interior photographs (the cash register must be visible in the picture).
Feel free to email me with any questions related to Antique Cash Registers, I would be glad to try and help in any way.
My email is: info@antiquecashregistercollector.com
Below are some of the machines in my collection.
Be sure to check out more pictures using the links on the left.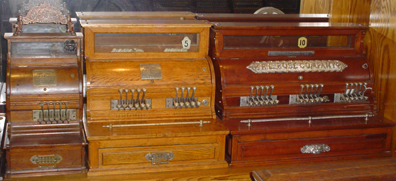 (Boston Manufacturing 1, 2 & 3 keybank machines)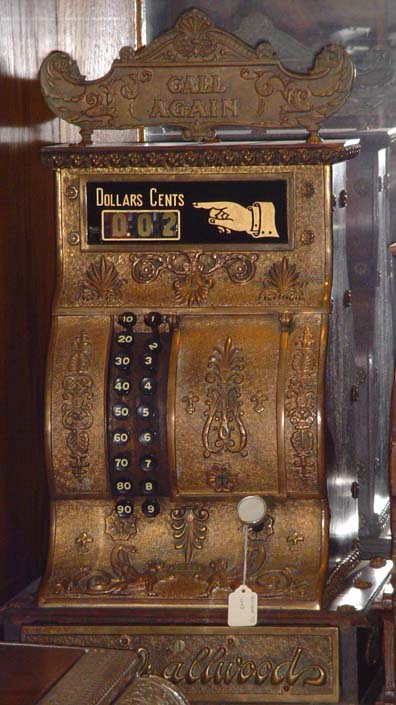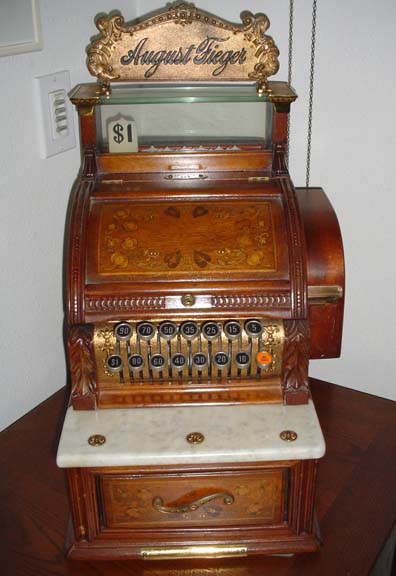 (Left: Hallwood "Floral Machine" / Right: NCR Model 317 w/Persimmons inlay)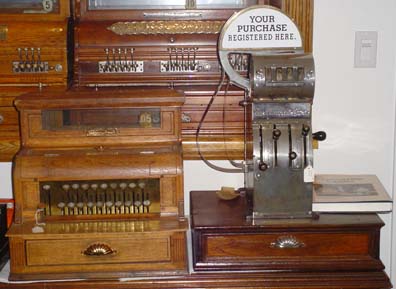 (Left: Lampson Oak case no inlay/ Right:Lampson Pump)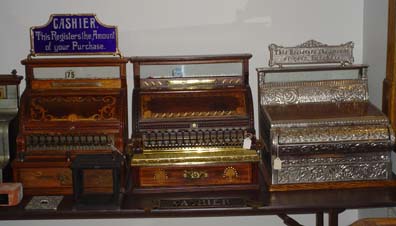 (From Left: National 2 w/Serpentine inlay, National 3 w/Clamshell inlay, Sun Cash Register)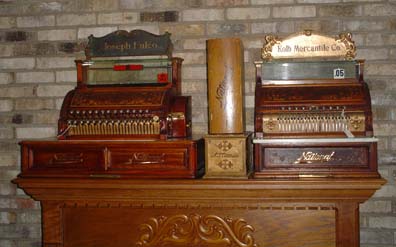 (Left: National 39 1/4 2-2 with Persimmon inlay)
(Right: National 333 with Persimmon inlay)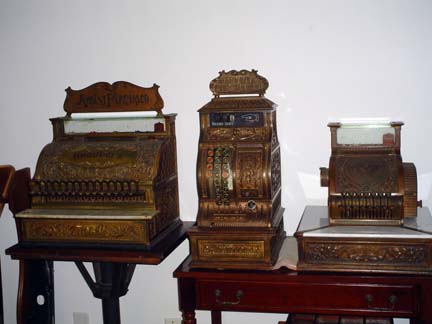 (From Left: National 246 w/personalized breast plate "Knauber's",
American 30, National 52 w/clock)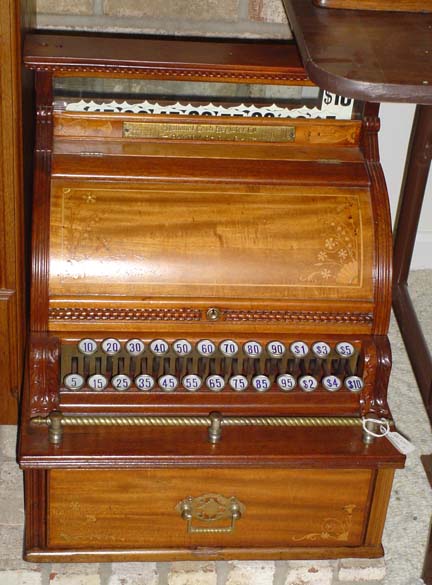 (National 2 Deep Drawer w/Lilly of the Valley inlay)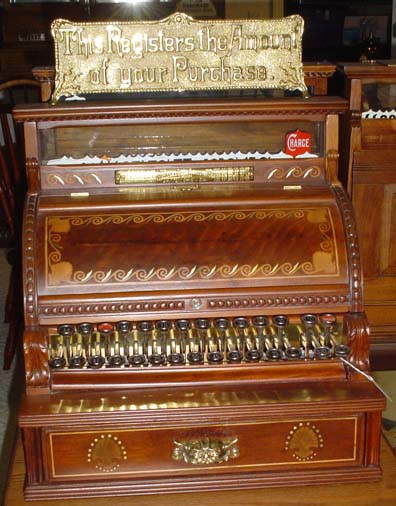 (National 63 Combination Mechanism w/Clamshell inlay)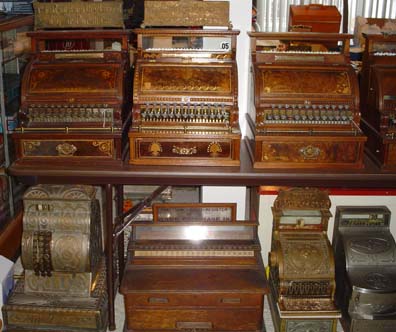 (Top from Left: National 2 w/Pinwheel inlay, National 2 w/Clamshell inlay,
National 2 w/Lilly of the Valley inlay)
(Bottom from Left: Michigan Model 5, Simplex, National 51 w/clock,
St. Louis Model 36 "cheese cutter" machine)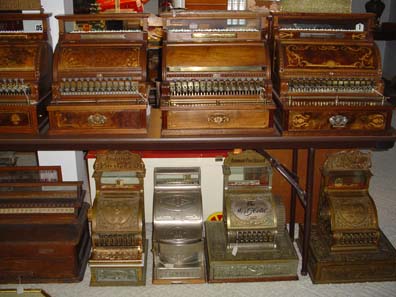 (Top from Left: National 2 w/Lilly of the Valley inlay, National 463 no inlay,
National 3 w/Serpentine inlay)
(Bottom from Left: Sun Cash Register, National 51 w/clock, St. Louis Model 36 "cheese cutter" machine, National 52 1/4 w/personalized breast plate "The West Hotel", National 52 w/clock)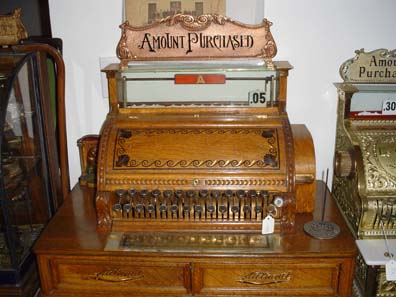 (National 47 2-2, oak, clamshell design with ebony inlay)

(Top from Left: National 50 w/clock, National 323, National 31, National 311, National 0 w/clock)
(Bottom from Left: Osborn Change Maker, American 22, National 238, National 11, National 333 w/personalized top sign "Guernsey Dairy Lunch")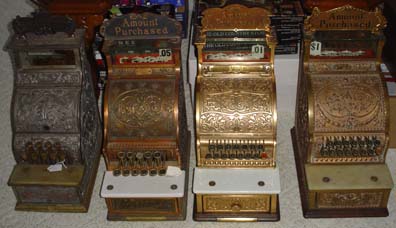 (From Left: Western, National 216, National 251, National 313)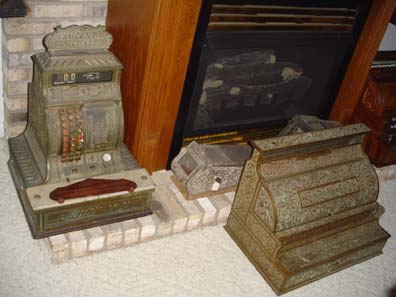 (From Left: American, National Autographic, National 4)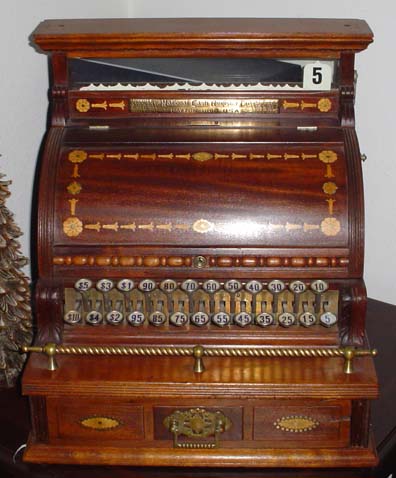 (National 2 w/Honeysuckle inlay)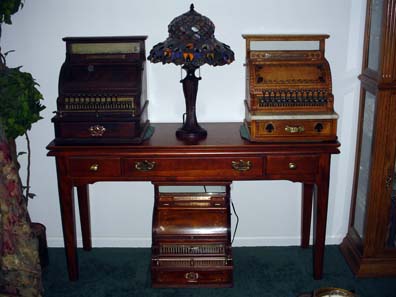 (Top Left: National 2 w/Pinwheel inlay with F. Hauck carved name in lid, National 9 oak case w/Ebony inlay)
(Bottom: National 2 w/Lilly of the Valley inlay)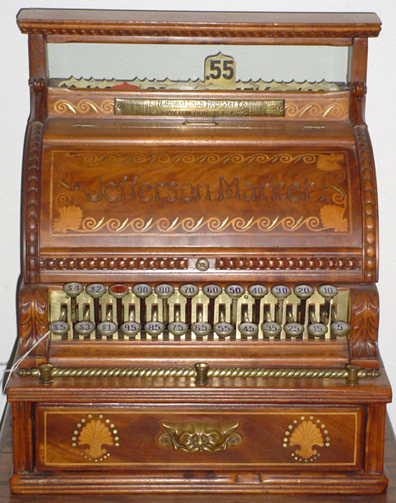 (National 9 w/Clamshell inlay and w/carved lid "Jefferson Market")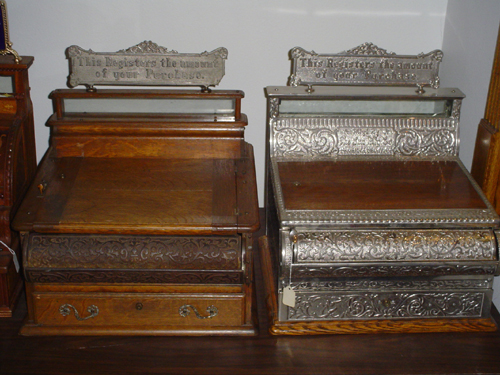 ( left: Sun Manufacturing Co. oak case, Right: Sun Manufacturing cast iron case)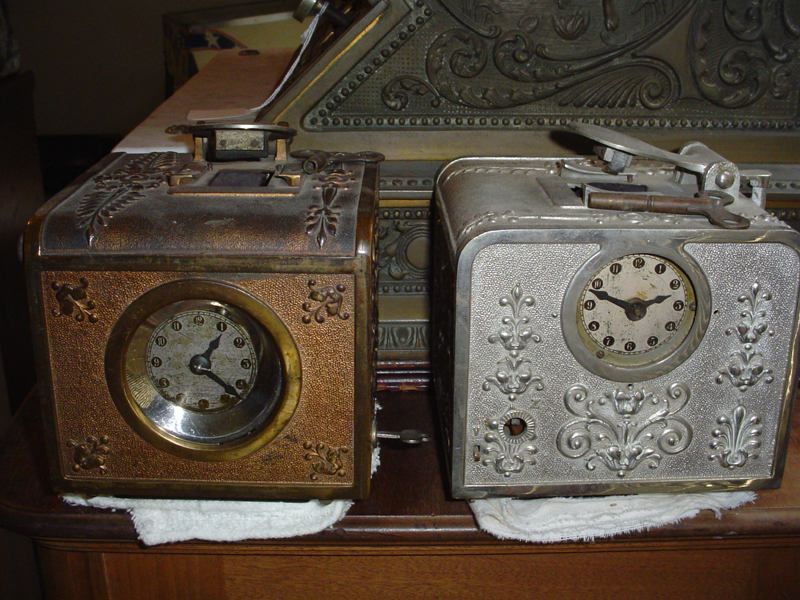 (Front facing Time Clock stamp, Side facing Time Clock Stamp)